Rambles...
Hey, dudes. This is the section I reserved for random rambling about things I do, what I use, inspirations, and other jargon.
How I Make Songs
Since forever I have been using Sony Acid to construct songs. To me it's like the Photoshop of audio. Tracks are layers, can be chopped every which way, distorted and manipulated, panning, volume etc. and can import/export various audio formats. After all these years I still think it's the perfect fit for me. TBH, I cannot play an instrument and I'm terrible with percussion. I learned through listening, to "see" if something sounded off-key by fooling around with project keys, root notes, pitchshifting and tweaking the equalizer. I find a loop and maybe a bassline that sound good together and pretty much go from there; chopping, distorting, adding/removing until I feel satisfied with the results. Remixes can be easier since I have a structure to work with, but trying to top a song I thought was solid gold has it's hurdles.
I'll admit that early songs I made have this crappy charm to them nowadays, but I thought they were the bee's knees back in the mid 00's. I still cherish them and it's nice to see the evolution of Hopscotch Mix.
When making songs, I went the way of early Bemani in-house music: A few musicians with various artist aliases for each genre or style. Early tracks set the foundation for each "artist's" identity and that's something I'm still building on, and even bringing back one hit wonders from the first years to this modern era. It's a little world we started and I want to keep it turning.
Coding
Website coding is my bag, although I'm not that that great. I love designing and creating layouts via HTML and CSS and building from scratch or reverse engineering existing code. As of the early 2010s I started to really get into responsive web design, incorporating more css and less js. For the longest time Sublime Text was my go-to for any text/code editing until I was reffered by a friend (Kid Covington) to try Atom and I fell in love again. That shit's super sexy and if you haven't heard/don't use it, I highly recommend trying it out (It's open source).
Software 'n Hardware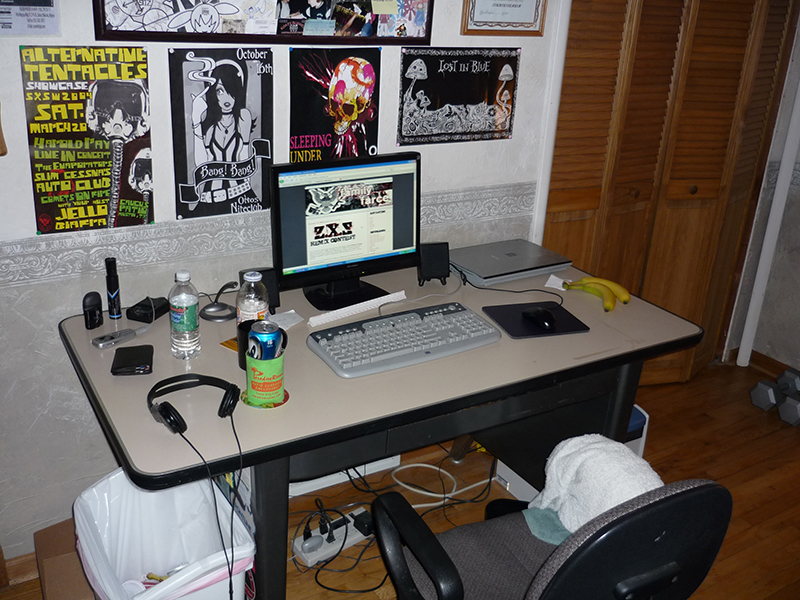 Hopscotch Mix was conceived sometime in August 2004 on my old mutt PC (Some early Pentium CPU, 256mb RAM, 2x 80gb HDDs, some early Nvidia GPU, no internet, 17" Gateway CRT monitor) Windows XP. Later upgraded to an Acer pre-built with slighty better specs, including 512mb RAM, another slightly better GPU, and a 250gb HDD (fresh install of Win XP) and updated Dell Trinitron 17" CRT monitor (and yes, internet happened). As time progressed (Late 2007), I upgraded to a full 1 gig of RAM, 19" LCD monitor, and an additional 500gb HDD backup. From 2004 until 2013-14 I used Photoshop and Illustrator CS2 before making the leap to CS6. Acid Pro 3.0, 4.0, 5.0 and now 6.0.
These primitive specs worked swimmingly as I had to compensate an under-powered PC with skill and knowledge. Not tooting my own horn, but I always loved the fact that I took a dumpstered computer and used it for years, creating some of my favorite works. Having strict limitations really forced me to think outside of the bun, and for that I am grateful.
This ol' hunk of junk was finally retired in late 2009, and a new mutt was built: Decent AMD CPU, 4gb RAM, okay-enough GPU, 750gb HDD, Windows 7. This PC wouldn't last as long as I eventually picked up a ThinkPad x220 that became my main rig. The reason was I traveled and commuted a lot, often times staying with friends and wasn't home much. Don't get me wrong, I still used the desktop, but eventually in 2013 I would pull the HDD and use it as an external and sold the barebones to a buddy looking to upgrade.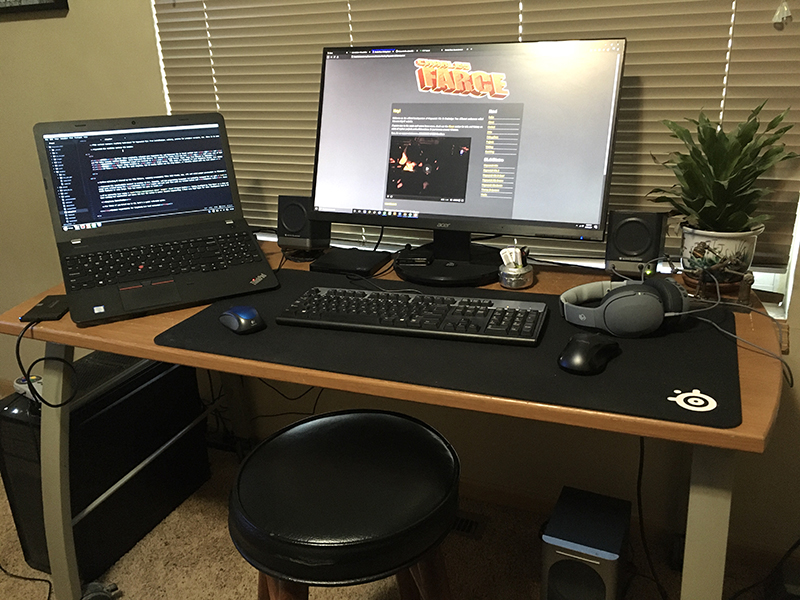 Software & Tools: Cross-platform with both Windows and Linux.
Acid Pro 6.0 (Song construction/editing/exporting)
Audacity (Song editing/exporting)
Adobe Photoshop CS6 (Graphic design. In tandem w/Illustrator)
Adobe Illustrator CS6 (Graphic design. In tandem w/Photoshop)
Atom Code Editor (Coding)
Vegas Pro 14.0 (Video editing)
Asperite (Pixel art & other game graphic design projecktes)
StepMania 3.9 (For nostalgic HSM themes and songs)
StepMania 5.3 Outfox (Very decent modern build. Currently used to create/re-sync step charts)
GNU Emacs 25 (GUI)
Geany 1.32 (IDE)
Terminator (Terminal)
qbittorrent (Windows Bittorrent client)
Clementine (Music player & library)
Bald Bull: The Work Station. My current rig for most of my works.
Gigabyte X99-UD5 WIFI CF Motherboard
Intel i7-5820 CPU @ 3.30 Ghz
Asus Nvidia GeForce GTX960 4gb GPU
32gb DDR4 RAM
1tb Samsung 860 Evo SSD (Windows 10)
500gb PNY SSD (Linux Mint)
6tb HDD (Backup and media drive)
Corsair 1000HX Platinum PSU
Acer 27" LED 1080p Monitor
King Hippo: The Media Server. Sits in my living room and hooked up to my TV for any sort of movies, shows, games, music, etc. I Don't do the Netflicks or the Bezos or any of that shit. Decent gaming rig, but I mostly use it for emulation: From Atari 2600 to Wii The Golden Age of videogames.
MSi B365M PRO-VHD Motherboard
Intel i7-3770 CPU @ 3.40 Ghz
MSi RX570 Armor 4gb GPU
16gb DDR4 RAM
1tb Samsung 860 Evo SSD (Linux Mint)
8tb HDD (Backup and media drive)
Corsair RM850x PSU
Glass Joe: The Laptop. When I'm out and about and want to work on things.
Lenovo ThinkPad E560
Intel i5-3770 CPU @ 3.40 Ghz
1tb Crucial MX500 SSD (Dual boot Linux Mint & Windows 10)
16gb RAM
Super Machoman: The NAS. A Slapped-together HP 6000 Pro Micro Tower with a few uprades.
Intel Pentium Dual-Core (E6300) 2.8 GHz Dual Core Processor
Nvidia Quadro FX 580 (R784K) 512 MB GDDR3 SDRAM PCI Graphic Card
8gb RAM
240gb SanDisk SSD (Void Linux)
4tb WD Red HDD x2
This sucker's purpose is a small backup of important files & works that are already backed up. Was a freebie that sat in a closet for over a year, so I recently decided to repourpose it for my little homelab.
Soda Popinski: The Seedbox. Seeding and snagging torrent files.
Dell OptiPlex 7050 Desktop
Intel Quad Core i5-6500 3.2GHz
16gb RAM
1tb WD Blue 3D NAND SSD (Kodachi Linux)
Inspirations
For the art side of things, I've been inspired by many artists: Ralph Steadman, Ben Frost, Winston Smith, Jackson Pollock, Frank Okay, SUDA51, Jean-Michel Basquiat, ながユー, Space Invader, Shepard Fairey, Dondi White, etc. Rhythm games & packs Dance Dance Revolution, Pump it Up, In the Groove, Beatmania IIDX, Pop'n Music, Technika, Sound Voltex, EZ2DJ, Foonmix, Flightmix, Pop Candy, Strawberry Steps. I can describe my "art style" as a mess of avant-garde experimentation, mid-century beat art, Russian constructivism, Cubism, montage/collage and animu/magna. I'm no stranger to take on modern or normalized design with my works. Gotta mix it up and make things ecclectic.
Musical influences...oh boy. That's a doozie:
Fugazi, Prefuse 73, Aphex Twin, Kraftwerk, Ultra Bidé, Fifteen, M1dy, Kosheen, Sheep on Drugs, Dead Kennedys, Art vs. Science, The Beatles, God Bullies, The Witch Trials, 7000 Dying Rats, Yeah Yeah Yeahs, Alice in Videoland, The Prodigy, Total Science, Rush, MC Lars, Melt-Banana, Beck, Wesley Willis, Deep Purple, Lords of Acid, Polysics, Ladytron, Guttermouth, Funeral Oration, Zeni Geva, Thrall, Nomeansno, 65 Days of Static, Naked Raygun, Sturgil Simpson, Yes, Atom & His Package, Grandmaster Flash, Christian Lunch, Victorian Halls, Peter Gabriel ...as well as rhythm game artists Kors K, LED, Kyle Ward, Naoki, Banya, Cranky, DJ Technorch, U1, Memme, DM Ashura, Zircon, Paul Bazooka, SynthWulf, Vospi, etc.
Shows, cartoons, animu (Influence and/or stuff I dig):
Mr. Show, Kids in the Hall, Star Trek (The original, TNG, DS9, Voyeger), Strangers with Candy, Aqua Teen Hunger Force, The Young Ones, Sealab 2021, Upright Citizen's Brigade, Regular Show, It's Always Sunny, Little Britain, Monty Python's Flying Circus, MXC, King of the Hill, The Simpsons (s01-s08), The Venture Bros., Harvey Birdman, Space Ghost: Coast to Coast, Check it Out!, Tim & Eric Awesome Show Great Job!, Futurama, Metalocalypse, Assy McGee, Trailer Park Boys, Cowboy Bebop, Sayonara Zetsubou Sensei, Yuru Camp, ToraDora, Phantom Quest Corp, Outlaw Star, Bokutachi wa Benkyou ga Dekinai, Samurai Champloo, FLCL, etc.
Lit? Lit! (Reading is food for your brain):
Some of my fav authors with novels ranging from brutal to beautiful; Funny to depressing (Mostly fiction, some essay collection and memoirs): Knut Hamsun, Chuck Klosterman, Charles Bukowski, Jerzy Kosinski, Douglas Adams, Ray Bradbury, Fyodor Dostoyevsky, Ernest Hemingway, Vladimir Nabokov, Carl Hiaasen, Dan Fante, David Sedaris, Kurt Vonnegut, John Hersey, Augusten Burroughs, William S. Burroughs, etc. I'm also into the non-fiction, such as world history, music history, mathematician/scientist biographies and psychology.